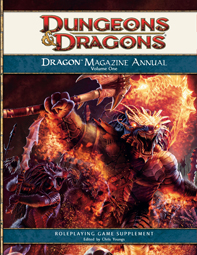 The Dragon Magazine Annual is a 4th edition Dungeons & Dragons rules supplement published in September 2009.
The book is a compilation of articles from Dragon magazine from June 2008 through March 2009.
Articles
Other credits
Steve Argyle's page 1 illustration for Dragon issue #368 was used for the front cover of Dragon Magazine Annual.
See also
External links