Dungeon! is an adventure board game first published by TSR in 1975. The 1989 edition of the game was known as New Dungeon, and the 1992 edition of the game was known as Classic Dungeon.
Gameplay
In Dungeon!, each adventurer's objective is to collect treasure by defeating monsters, and be the first to return to the dungeon's entrance with the required amount of treasure. The dungeon is split into 6 levels, with higher numbered levels occupied by more difficult monsters guarding more valuable treasure. Combat proceeds by moving into a space occupied by a monster and rolling two six-sided dice (2d6).
Each player can choose one of four different adventurers: the elf, the hero, the superhero, or the wizard. The elf needs high rolls to defeat monsters, and may find levels beyond 1 to 3 too difficult, but passes through secret doors easily and only needs 10,000 gp to win. The hero can defeat monsters with average rolls, does well in levels 2 to 4, and only needs 10,000 to win. The superhero can defeat monsters with low rolls, and does well in levels 3 to 5, but needs 20,000 gp to win. The wizard can teleport instantly between levels, and defeat monsters with magic from a safe distance, but needs 30,000 gp to win, and may not collect treasure quickly enough in levels before 4 to 6.
2012 edition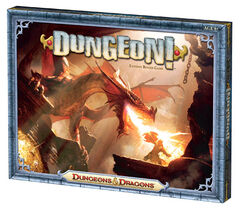 Wizards of the Coast published an updated edition of Dungeon! in October 2012.
The 2012 edition renamed the adventurers after the classic four classes from 3rd and 4th edition Dungeons & Dragons: halfling rogue (the elf), dwarf cleric (the hero), human fighter (the superhero), and elf wizard (the wizard). Its visual style, such as fonts and art style, is similar to 4th edition D&D, with a box top illustrated by Michael Komarck. 4th edition D&D designers Peter Lee, Mike Mearls and Rodney Thompson were among the game's credited playtesters.
The most recent edition of Dungeon! was published in June 2014, with the same rules as the 2012 edition and cartoon style art.
Variant rules
Wizards of the Coast suggested a number of optional rules for altering Dungeon! gameplay.[1]
References
External links